None at this time.
Insider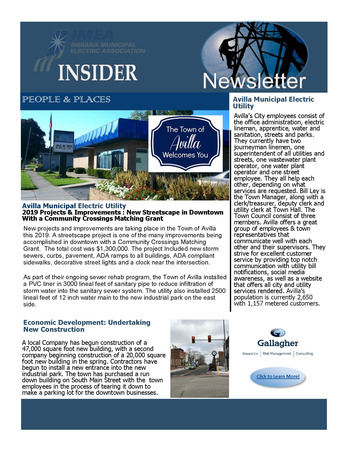 Avilla Municipal Electric Utility
New projects and improvements are taking place in the Town of Avilla this 2019. A streetscape project is one of the many improvements being accomplished in downtown with a Community Crossings Matching Grant.  The total cost was $1,300,000. The project Included new storm sewers, curbs, pavement, ADA ramps to all buildings, ADA compliant sidewalks, decorative street lights and a clock near the intersection.  Read More..
Gas City Electric Utility / Breaking New Ground: A Place We Now Call Home
Gas City and Utility Manager, Dick Justice broke ground for Gas Cities New Electric Utility one year ago, November 2018. Gas City Utility Management & employees moved in to the property, June of 2019. Gas City Utility management made efforts as well as City Officials to ensure that the Utility crew were provided a firm established facility to work from and a good working environment for all involved. Read More....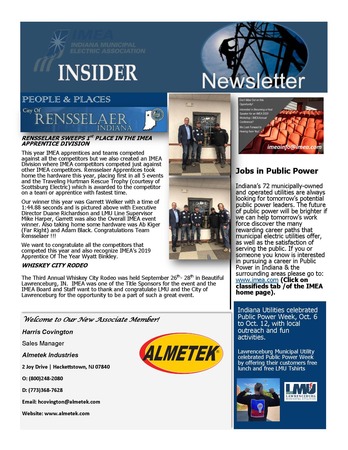 Rensselaer Sweeps 1st Place in the IMEA Apprentice Division
Rensselaer Apprentices took home the hardware this year, placing first in all 5 events and the Traveling Hurtman Rescue Trophy (courtesy of Scottsburg Electric) which is awarded to the competitor on a team or apprentice with fastest time. Read More...
e-Source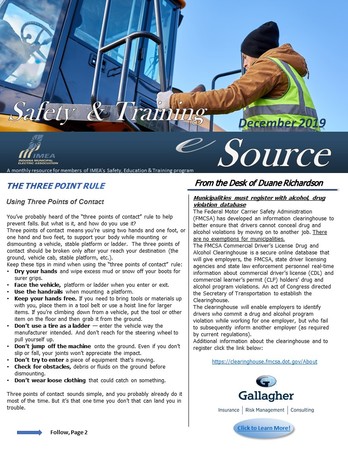 The Three Point Rule : Using Three Points of Contact
Three points of contact sounds simple, and you probably already do it most of the time. But it's that one time you don't that can land you in trouble. Read More...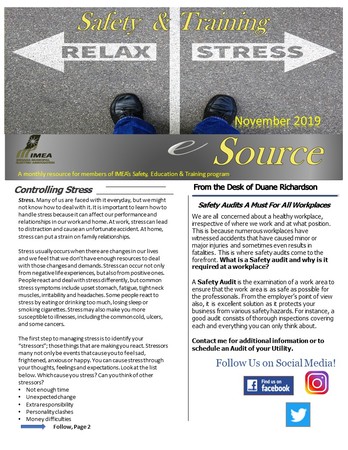 Controlling Stress
Many of us are faced with stress everyday, but we might not know how to deal with it. It is important to learn how to handle stress because it can affect our performance and relationships in our work and home. READ MORE to find out how to identify these "stressors" and offer solutions on how to be proactive against reoccurring stress in your work and home. Read More...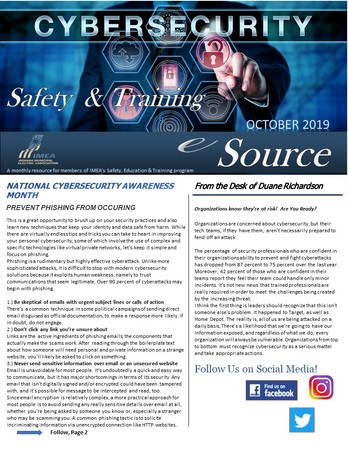 National Cybersecurity Awareness Month
How to prevent phishing from occurring in your Utility