2022 IMEA Lineworkers Rodeo
Indiana Municipal Electric Asociation Members to REGISTER ONLY!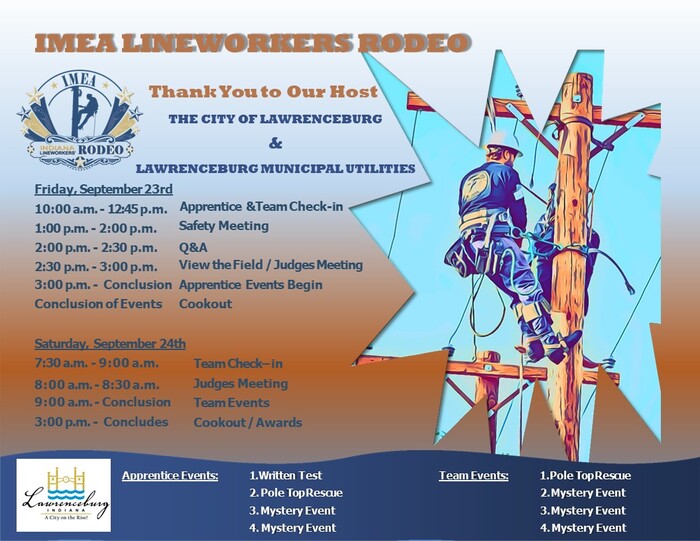 The IMEA Indiana Lineworkers' Rodeo hosted by the City of Lawrenceburg & Lawrenceburg Municipal Utility is the state's most energizing safety and training event. The only one of its kind for public power lineworkers in the state, the interactive, competitive event is designed to showcase the skills and knowledge of a lineworker in a fun and safe environment. The event is open to anyone who is a practicing lineworker in a municipally owned and operated electric utility and/or rural cooperative in Indiana and surrounding states.
The rodeo features two levels of competition: journeyman team, and apprentice. There are four events for apprentices, and four in the team category. Three of the four will be provided as Mystery events with the fourth as Pole Top Rescue. We hope you will join us for our two-day event on Friday, September 23 & Saturday, September 24 with a cookout and awards following the conclusion of the event.
REGISTER TODAY!
Click Here to Register for the Apprentice Entry!
Click Here to Register for the Team Entry!