Welcome to Tipton Municipal Utility
Tipton Municipal Utility was established in 1901 serving 4,236 electric customers. Tipton purchases their power from Indiana Municipal Power Agency. Other Utilities provided are water, wastewater and storm water.
Tipton was originally established in 1844 as the "Town of Canton". When it was discovered that a "Town of Canton" already existed, the city fathers renamed the town after General John Tipton and proclaimed as Tipton ever since. The County was mostly swamp land in the 1840's but once it was drained, it became some of the most fertile farmland in the state. Tipton has always been recognized for its agricultural background as well as manufacturing.
Our Mission
The Utility is governed by their A Utility Service Board which is responsible for ensuring that the Utilities (electric, water, sewage collection & treatment and storm water) are constructed, operated and maintained by knowledgeable and skilled personnel to the highest quality at reasonable cost. The professionalism of the utility staff is exhibited in their day to day operations.
Tipton Municipal Utility Manager : Rex Boyer
Rex Boyer, Utility Manager makes strives to create an atmosphere of unity and appreciation for each Utility Department and tries to foster an "open door" policy. Rex makes every effort he can to avoid being a "micro-manager" and allow those in charge to develop their own resolutions to issues before they are discussed between staff and management. The most rewarding part of his job is hearing a customer complement the staff for a job well done. Believing it helps to foster a team effort and makes everyone think as opposed to relying on someone else to solve every problem.
Safety Is Important at Tipton Municipal Utility
Safety is their number one priority and they take pride in the utility's safety record. Attempting to make sure Tipton Municipal employees are provided with proper PPE and adequate training for every job. Considerable efforts are placed on safety training every year and expected of all staff.
Current Projects
The Utility recently began construction on Phase III of their Long-Term Control Plan which is a plan to remove their sewer overflows from Cicero Creek. This is a large storm sewer which will capture their current overflows and convey them to the wastewater plant for treatment. This is a 7-million-dollar project and should be completed by Fall. Other projects completed were a South Loop Electrical upgrade which was a 1.2-million-dollar project to rebuild Tipton Municipal Utilities electrical service around the south side of Tipton. This project has increased the amount of power available as well as provided a redundant feed to the downtown area. Future projects taking place is an upgrade to their metering system (adding all new AMI meters), as well as upgrading the asset management system for the electric utility.
---
---
THANK YOU TO OUR FEATURED ASSOCIATE MEMBER!
Sunbelt - Solomon Solutions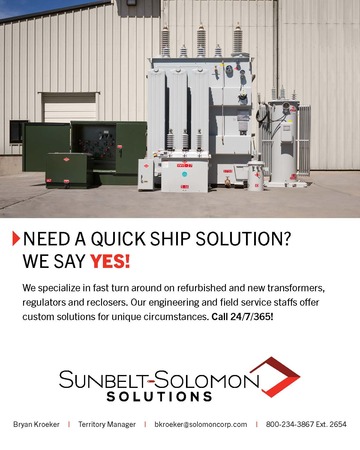 ---
CLICK THE BANNER FOR UPDATED INFORMATION AND RESOURCES RELATED TO COVID-19

---
Providing confidence every step of the way.
Gallagher is a global leader in insurance, risk management & consulting services helping clients face challenges and providing effective solutions.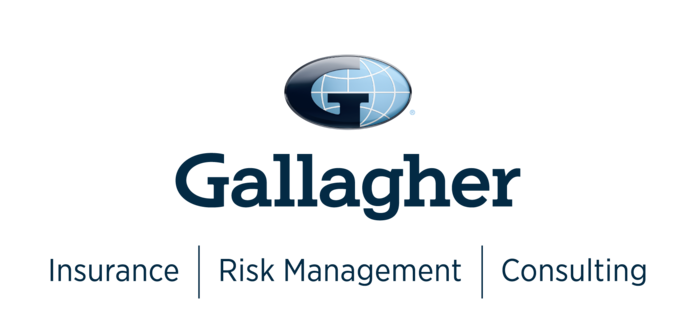 Procedures For Requesting Mutual Aid
In the event of a disaster, the IMEA Mutual Aid program is designed to provide trained personnel and assistance to any municipality, IOU or electric cooperative in or outside of the state of Indiana. Our first priority is to dispatch crews to IMEA member communities.
Survey the extent of damage and determine the need for assistance, manpower and equipment.
If the emergency can be handled locally, or with minimal assistance call your neighboring municipal.
If the emergency/disaster is of a larger magnitude, or initially thought to be a local emergency, but the situation has changed, contact IMEA's Safety and Training Director or the IMEA Coordinators.
When contacting Indiana Municipal Electric Association (IMEA) please provide the following information:


Municipals or other entities that you have contacted, and the assistance being provided by that system.
Number and type trucks and equipment needed.
Number and classification of personnel needed.
Weather or road conditions, or any other significant travel information.
Where and to whom the crews should report. Provide a second contact person's name for IMEA.
Contact Information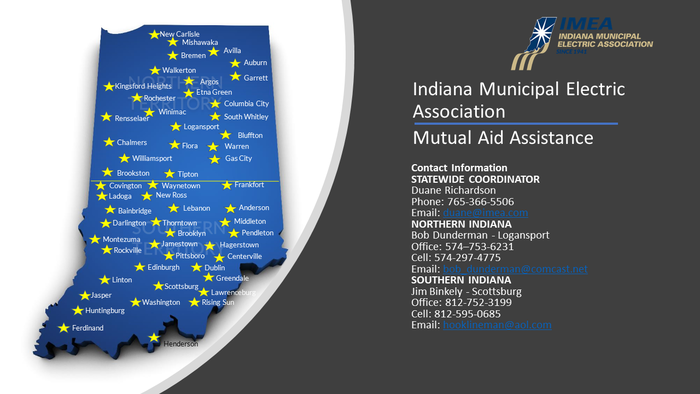 MAKE YOUR RESERVATIONS TODAY!
Location
The Annual Meeting & Vendor Expo will take place at the:
Embassy Suites in Noblesville, IN.
13700 Conference Center Dr. South
Noblesville, IN. 46060
Reservations
Main Telephone:

(317)674-1900

Group Rates: Single King 1 Room Studio Suite / Double Queens 1 Room Studio Suite $159 per night / 1 King Bed 2 Room Suite $179 per night (plus room tax and incidentals fees)
Reservation Cut-off Date: Midnight of October 12, 2020 (Any remaining rooms in the block will be released after Midnight)
Group Code: IMEA
Online Reservation Link: CLICK HERE to Make Your Reservation!
Logistics
Check-in 4 p.m. Check-out: 11 a.m.
Free Available Parking
Complimentary WIFI
Complimentary Evening Reception
On-site Restaurant
Free Made-To-Order Breakfast
About the Hotel
Find us just off I-69 in Noblesville, steps from Hamilton Town Center and a mile from Rouff Home Mortgage Music Center. Our conference center hotel offers more than 29,000 sq. ft. of event space. Enjoy free cooked-to-order breakfast and our complimentary evening reception daily.
Embassy Suites (Hotel Gallery)
The Embassy Suites by Hilton Noblesville Indiana Conference Center
Where flawless, fantastic meetings & events take place!