Details

October 11-13, 2022
2022 IMEA Annual Business Meeting & Vendor Expo
2022 IMEA ANNUAL MEETING
& VENDOR EXPO
The future of Municipals in the Public Power Industry
HAVING REPRESENTATION FROM EACH MUNICIPAL MEMBER OF THE IMEA ORGANIZATION IS IMPERATIVE FOR SUSTAINABILITY AND MEMBER ENGAGEMENT. WE ENCOURAGE YOU TO ATTEND AND UTILIZE THESE OPPORTUNITIES TO IMPROVING YOUR SKILL SET, CREATING BETTER EMPLOYEE COMMUNICATION AND LEARNING ABOUT THE SUCCESSES OF OTHERS AND APPLYING THEM TO YOUR WORKPLACE.
Indiana Municipal Electric Association is pleased to announce the
2022 IMEA Annual Meeting
& Vendor Expo
LOCATION: Blue Chip Casino Hotel & Spa
Michigan City, Indiana.
DATE: OCTOBER 11 - 13, 2022
Come share in networking with your neighboring utilities as well as taking part in our vendor expo offering the best in state-of-the-art products and services!
Registration is LIVE!
Click HERE to Register to Attend!
2022 IMEA Associate Member Welcome Packet
2022 IMEA Annual Member Welcome Packet
WE LOOK FORWARD TO YOUR PARTICIPATION!
Blue Chip Casino & Spa Hotel & Event Center
777 Blue Chip Drive
Michigan City, IN. 46360
(888)879-7711
Group Name: IMEA Annual Conference
Group Code: IM1013G
Arrival Date: 10-Oct-2021
Departure Date: 13-Oct-2021
Hotel Reservation Deadline: September 16th at 11:59pm.
---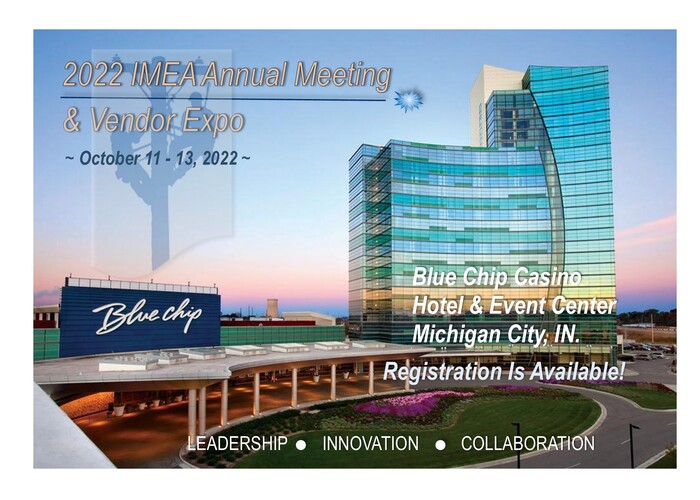 Add to Calendar
aCLuDhaqizCaPxAftmqF167204
10/11/2022 06:00 AM
10/13/2022 10:00 PM
false
America/New York
2022 IMEA Annual Business Meeting & Vendor Expo
2022 IMEA ANNUAL MEETING& VENDOR EXPOThe future of Municipals in the Public Power Industry HAVING REPRESENTATION FROM EACH MUNICIPAL MEMBER OF THE IMEA ORGANIZATION IS IMPERATIVE FOR SUSTAINABILITY AND MEMBER ENGAGEMENT. WE ENCOURAGE YOU TO ATTEND AND UTILIZE THESE OPPORTUNITIES TO IMPROVING YOUR SKILL SET, CREATING BETTER EMPLOYEE COMMUNICATION AND LEARNING ABOUT THE SUCCESSES OF OTHERS AND APPLYING THEM TO YOUR WORKPLACE. Indiana Municipal Electric Association is pleased to announce the2022 IMEA Annual Meeting& Vendor Expo LOCATION: Blue Chip Casino Hotel & Spa Michigan City, Indiana. DATE: OCTOBER 11 - 13, 2022 Come share in networking with your neighboring utilities as well as taking part in our vendor expo offering the best in state-of-the-art products and services! Registration is LIVE! Click HERE to Register to Attend! 2022 IMEA Associate Member Welcome Packet 2022 IMEA Annual Member Welcome Packet WE LOOK FORWARD TO YOUR PARTICIPATION! Blue Chip Casino & Spa Hotel & Event Center 777 Blue Chip Drive Michigan City, IN. 46360 (888)879-7711 Group Name: IMEA Annual ConferenceGroup Code: IM1013GArrival Date: 10-Oct-2021Departure Date: 13-Oct-2021Hotel Reservation Deadline: September 16th at 11:59pm. www.bluechipcasino.com/groups  
----